Data shows the Bitcoin correlation with S&P 500, and hence the stock market, has now set a new all-time high (ATH).
Bitcoin Correlation With S&P 500 Reaches New High
As pointed out by an analyst in a CryptoQuant post, the BTC correlation with the stock market is currently at an all-time high, further damaging the "safe haven" narrative.
The "Bitcoin correlation with S&P 500" is an indicator that measures how strongly the price of BTC reacts to volatility in S&P 500, as well as the direction of the response.
When the indicator has values greater than zero, it means there is a positive correlation between the stock market and the price of the crypto at the moment. "Positive" here means that BTC moves in the same direction as S&P 500.
On the other hand, correlation values less than zero imply that BTC reacts to S&P 500's price changes by moving in the opposite direction.
Related Reading | Bitcoin Plunges Below $40 As Russia Has Reportedly Given Its Forces Order To Attack Ukraine
Values of the indicator exactly equal to zero naturally mean that there is no correlation between the two assets. Now, here is a chart that shows the trend in the S&P 500 and Bitcoin correlation since the year 2013:
The indicator's value over the history of the crypto | Source: CryptoQuant
As you can see in the above graph, the correlation between Bitcoin and S&P 500 swung between positive and negative while remaining low for the most part of BTC's history.
Related Reading | Why Bitcoin Won't Crack Over Fresh Bear Assault, Next Potential Target For BTC
However, since late 2019-early 2020, the two assets have become strongly, positively correlated. During 2020, the metric had a crash due to the COVID sell off, but the indicator sharply rose during the 2nd half of 2021 and 2022 so far.
The correlation between the Bitcoin and the stock market has now set a new all-time high (ATH) of +0.5468 this month.
Such high correlation between the assets has further put a dent on the narrative of "digital gold" as the crypto is no longer the safe haven it once was.
BTC Price
At the time of writing, Bitcoin's price floats around $39k, down 12% in the last seven days. Over the past month, the crypto has gained 10% in value.
The below chart shows the trend in the price of BTC over the last five days.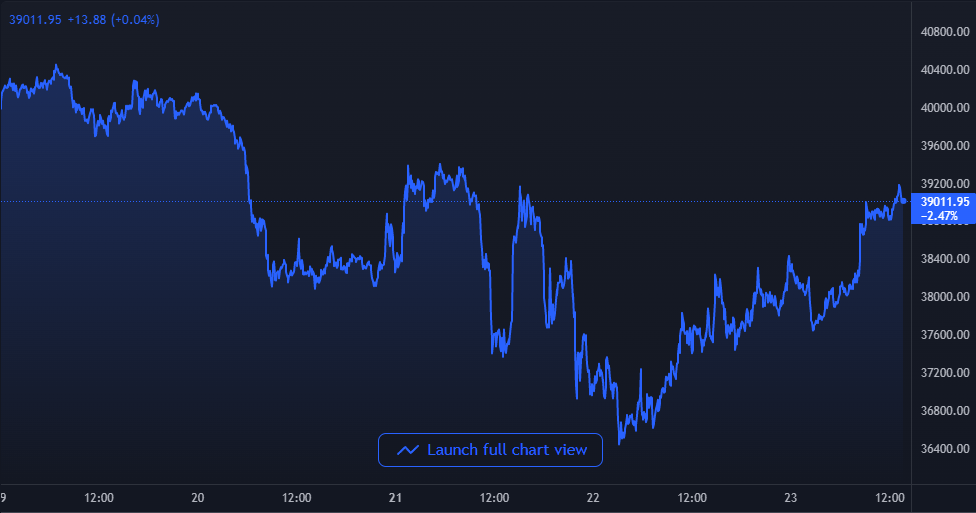 BTC's price seems to made some recovery over the last couple of days | Source: BTCUSD on TradingView
A few days back, the price of Bitcoin plunged down, touching as low as $36.4k. Since then, the value of the coin has shown some recovery, breaking above the $39k level again today. At the moment, it's unclear whether this fresh uptrend will last.
Featured image from Unsplash.com, charts from TradingView.com, CryptoQuant.com