Bitcoin surged after July's CPI data showed that inflation has started to decline after several months of record-breaking rates.
Similar to earlier instances, the price of bitcoin climbed close to $24,000.
CPI Report Boost Bitcoin Price
According to the Consumer Price Index report (CPI) that the U.S. Bureau of Labor and Statistics released on Wednesday, consumer costs remained unchanged, putting inflation at 8.5%.
Prior to this, analysts anticipated that the index, which analyzes price changes across a wide range of products and services, would increase by 0.2% to reveal inflation to be 8.7% on an annual basis.
After the U.S. Bureau of Labor Statistics released its data on inflation for July, the value of the Dow Jones Industrial Average, Nasdaq, S&P 500, and NYSE indexes all sharply increased. Moreover, the value of precious metals and cryptocurrencies rose on Wednesday. The value of bitcoin surged by nearly 4%, that of gold by 0.35%, and that of silver by 1.43% in relation to the dollar.
BTC/USD trades close to $24k. Source: TradingView
Inflation as measured by headline CPI increased 0.0 percent month-over-month in July, well below its elevated June monthly rate of 1.3 percent. Monthly core inflation in July fell to 0.3 percent. 1/ pic.twitter.com/6bVTZq7m1W

— Council of Economic Advisers (@WhiteHouseCEA) August 10, 2022
According to the Consumer Price Index (CPI) report for July 2022, the Consumer Price Index for All Urban Consumers (CPI-U) increased by 1.3 percent in June but remained steady in July. Before seasonal adjustment, the all items index rose 8.5 percent over the previous 12 months. The report on inflation adds:
"The gasoline index fell 7.7 percent in July and offset increases in the food and shelter indexes, resulting in the all items index being unchanged over the month."
President of the United States Joe Biden talked about the CPI figures as well and said that new legislation and domestic semiconductor production had increased the nation's economic activity.
According to Biden,
the lack of semiconductors resulted in high pricing for autos last year, which accounted for one-third of core inflation. "America is back leading the way with the CHIPS and Science Law boosting our efforts to make semiconductors right here at home."
Focus Turns To FOMC Meeting In September
Analysts anticipate that core inflation will rise from 5.9% to 6.1%, pushing the Fed to raise interest rates further in September. The CPI data, however, indicates that recent rate hikes are having a cooling effect on the economy.
Nevertheless, Citigroup economists predicted another 75 basis point increase, fueled by strong job data and faster pay growth than anticipated. But if core inflation comes in higher than anticipated, there is also a chance for a 100 basis point rise.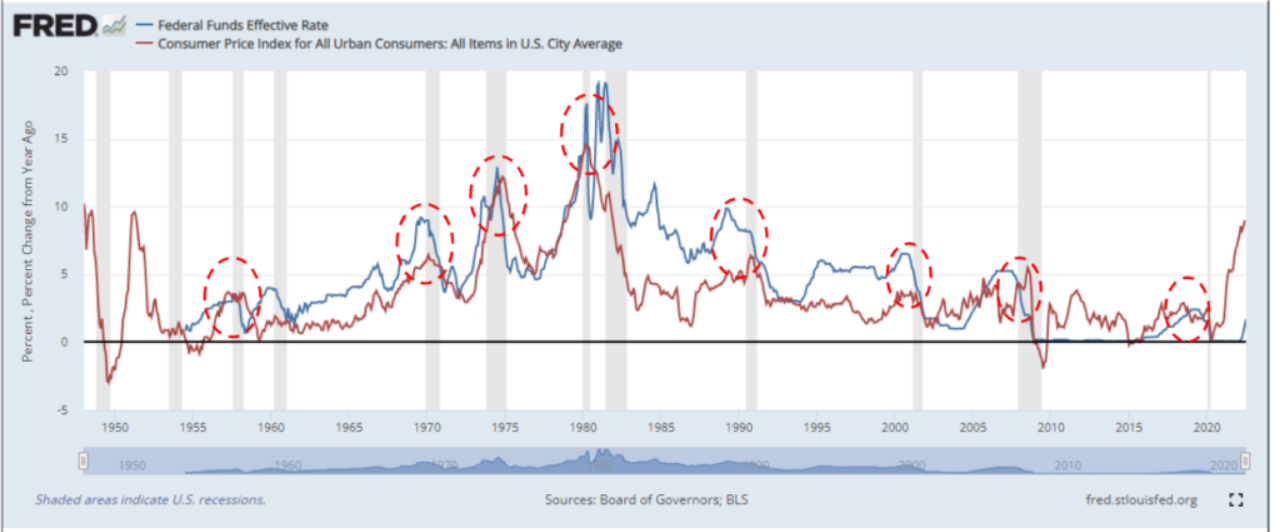 Federal Funds Effective Rate (Source: FRED)
The current CPI rate is 9%, and investor Stanley Druckenmiller said that "Inflation has never come down from above 5% without Fed funds rising above CPI."
The Fed won't need to raise rates as much as they have thus far this year if inflation has peaked.
In response to rising interest rates that slow growth, institutional investors have moved away from more speculative assets like tech stocks and cryptocurrencies and toward investments that are more comparatively stable, such corporate bonds and U.S. Treasuries.
Featured image from Getty Image, charts from FRED and TradingView.com