Bitcoin and the crypto market are back in the red. The first crypto by market cap records a 2% loss in the last 24-hours and could push other digital assets into critical support zones.
Related Reading | Bitcoin Indicator Hits Historical Low Not Seen Since 2015
At the time of writing, Bitcoin is one of the best-performing assets in this ranking only surpassed by Binance Coin (BNB) and Ethereum (ETH), according to data from Coingecko. BTC's price trades at $37,600 with a 7% loss over the past week.
After a major outage to its network, Solana (SOL) records a 16% loss and stands as the worst-performing cryptocurrency by market cap. Terra's native cryptocurrency LUNA closely follows with a 15.5%.
These losses seem small when compared to other cryptocurrencies in the top 100 by market cap. Tokens that were higher in the ranking, like Shiba Inu (SHIB) and Avalanche (AVAX), now record as much as 20% losses in one week alone.
According to a recent report from Arcane Research, smaller cryptocurrencies have been underperforming in the current market conditions. Investors seem to be fleeting to "safety" as the appetite for risk decreases pending a potential 50 basis point increase from the U.S. Federal Reserve (FED).
While Bitcoin and larger cryptocurrencies have been showing a correlation with a 16% loss for April, Arcane Research's small-cap index and mid-cap index are trending lower. The former record a 30% loss while the latter records a 29% loss over the same period.
Conversely, Bitcoin's dominance has been moving opposite to small coins. This metric stands at 42% with a high probability of extending as macro-conditions continue to prove unfavorable. Arcane Research noted:
Stablecoins also see growing dominance. UST has entered the top 10, becoming the first algorithmic stablecoin to achieve this. We now have three stablecoins among the top 10, and 4 among the top 11, illustrating the current flight to safety tendencies in the market.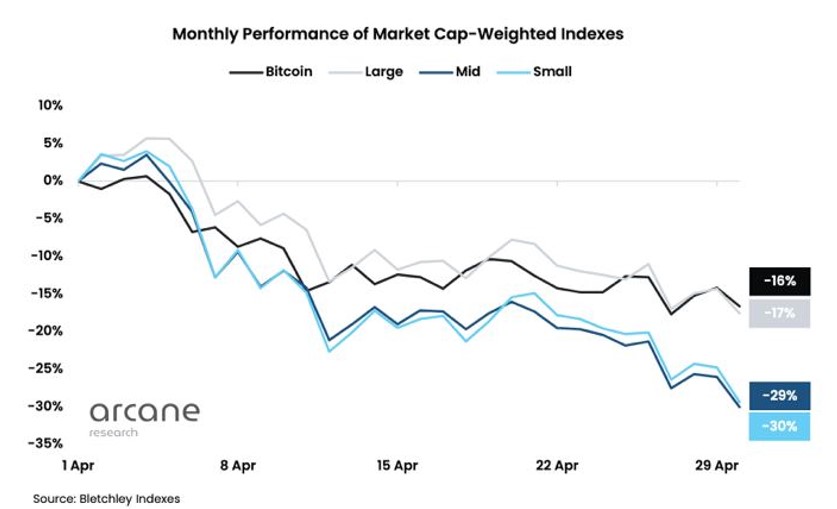 What To Expect From Bitcoin In The Short Term?
A separate report from FTX Access claims the market is pricing 50 bps hikes for the upcoming four FED meetings. This would place interest rates at around 2 or 2.5 bps for the end of 2022.
Related Reading | Bitcoin Taker Buy-Sell Ratio Rebounds Back Into "Hold" Zone
In that sense, FTX Access claims that unless there is a surprise from the financial institution, the market could see some relief:
Powell's tone will be interesting but without raising +75bps or increasing the pace of QT it's a high bar for a hawkish surprise. Some of this is cause for optimism, but unfortunately sentiment is rock bottom.