On Tuesday, the crypto market looked good in comparison to Netflix (NFLX). The shares of the world's leading streaming company fell 27% to $256 in after-hours trading reaching 2019 levels after announcing a massive loss of 200,000 subscribers in the first quarter of 2022. This translated to roughly a $40 billion loss in half an hour.
This is the first time the company loses customers since 2011 and is expecting to lose 2 million more in the current second quarter. NFLX is already 63% down from its All-Time High and over 40% this year.
"For those wondering how long a miss like this can sting: A reminder that $FB is still down ~33% since it disclosed Facebook's user growth hit a ceiling," Bloomberg's Brian Chappatta noted.
Analyst Michael Nathanson of MoffettNathanson LLC told Bloomberg that "It's just shocking," adding, "Everything they've tried to convince me of over the last five years was given up in one quarter. It's such an about-face."
Will Crypto Follow?
The news site further reported that "Disney fell as much as 5.2% in extended trading after Netflix reported its outlook, while Warner Bros. Discovery Inc., the owner of HBO Max, declined as much as 2.8%. Shares of Roku Inc., the maker of set-top boxes for streaming, dropped as much as 8.3%."
Many have wondered if this could drag down the crypto market as well. An economist noted that the last time a sharp shed like this happened for Netflix (Jan 22, 2022), "it triggered [an over] 30% 4-day crash across crypto." However, he added that he doesn't think this will be an issue this time. "It's now an idiosyncratic event."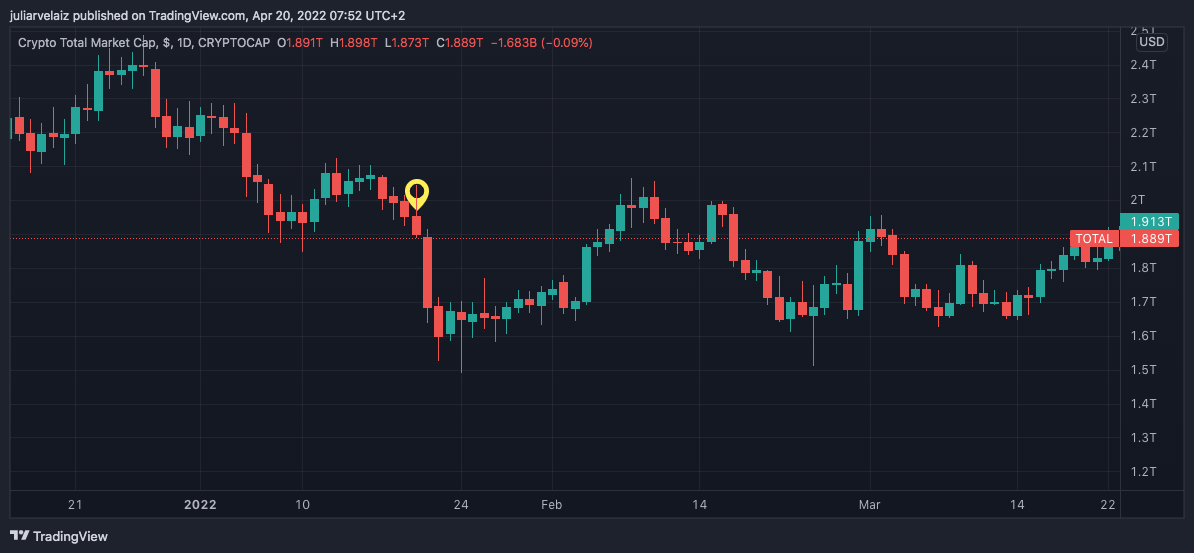 The reason why many do not think this scenario will repeat is that the previous case was highly related to the macroeconomics –the general stock market sell-off over fear related to interest rate hikes in the U.S.–, while this time the indicator seems to be specific to the company's declining demand.
Related Reading | Bitcoin Nosedives Below $38k As Tech Stocks Take A Beating, Pandemic Gains Disappears
Back in January, the company admitted that the competition is "affecting marginal growth some." Now, besides the increasing competition, they stated that the bad performance in Q1 was partly due to a large amount of customers who share their passwords, estimating 100 million households that use the service technically for free.
They also pointed out macro factors, " including sluggish economic growth, increasing inflation, geopolitical events such as Russia's invasion of Ukraine, and some continued disruption from COVID are likely having an impact as well."
Netflix completely missed their forecast for a 2.5 million growth in subscribes as well as Wall Street's estimate, which also expected them to add that many users in the first quarter of 2022.
In contrast, the anti-crypto propaganda that calls it "too volatile" and "too risky", claiming that investors need protection from it, is looking weak and pale today.
BREAKING NEWS:

Stock traders realise that tech can drop as fast as #Crypto can.

My condolences, Netflix investors. $NFLX

— Michaël van de Poppe (@CryptoMichNL) April 19, 2022
Around January 27, after the first big Netflix plunge of the year, Bill Ackman had reported that his hedge fund purchased more than 3.1 million shares of the company. That makes his position currently 387.5M down.
Related Reading | Majority Of Crypto Holders Will Hold Through An 80% Crash, New Survey Shows
"Somebody Always Knows"
The second big thing that contrasts with crypto is that the industry is often called a fraud scheme, but to some analysts, this NFLX scenario is giving signs of insider trading.
The Twitter account Unusual Whales noticed that "the most active hot chain before close" was $NFLX with $300 put. "And the top floor trades were all bearish." This means that traders with put options probably made a lot of money. Which sounds like they knew something would happen.

Similarly, the account also noted that "A trader took a huge $NFLX put position, buying +100k at ~$2 ask 7 days ago. The position had 4500 volume that day, 41 volume the day before, expiring in a month. Likely made 1000%."