On-chain data shows Bitcoin whale ratio still has a high value right now, suggesting that more downside could be coming for the crypto soon.
Bitcoin Exchange Whale Ratio Has Stayed At Elevated Values Recently
As pointed out by an analyst in a CryptoQuant post, the BTC exchange whale ratio has remained at high values recently.
The "exchange whale ratio" is defined as the sum of the top 10 Bitcoin transactions to exchanges divided by the total inflows.
In simpler terms, this indicator tells us the relative size of the whale transactions (that is, the ten largest transactions) compared to the total amount of coins moving into exchanges.
When the value of this ratio spikes up, it means whales now account for a high percentage of the total exchange inflows. This can be a sign of dumping from these massive holders, and could prove to be bearish for the price of Bitcoin.
Related Reading | Quant Explains How Bitcoin Funding Rate Predicted The Latest Top
On the other hand, a low value of the indicator suggests whales make up a healthy part of the total inflows right now. Sustained such trend can be bullish for the crypto's price.
Now, here is a chart that shows the trend in the Bitcoin exchange whale ratio (SMA 30) over the last few years:
Looks like the value of the indicator has been high recently | Source: CryptoQuant
As you can see in the above graph, the Bitcoin exchange whale ratio (SMA 30) is at a high value right now. The indicator's value had dropped off a bit just before the latest rally that took the coin above $47k, but it wasn't long until it observed an increase again.
In response to this new wave of dumping from the whales, the price has dropped off below the $45k level once again.
Related Reading | Bitcoin Collapses 7% As FED Gets Hawkish, Why This Could Be A Buy The Dip Opportunity
The ratio looks to be climbing up still, or at least staying at the current high values, which could suggest the price may see more decline soon.
However, it's also possible the Bitcoin whales may be done with their dumping for now and the ratio could drop back off to allow the price to recover, but it all remains to be seen.
BTC Price
At the time of writing, Bitcoin's price floats around $43.1k, down 5% in the last seven days. Over the past month, the crypto has accumulated 13% in gains.
The below chart shows the trend in the price of the coin over the last five days.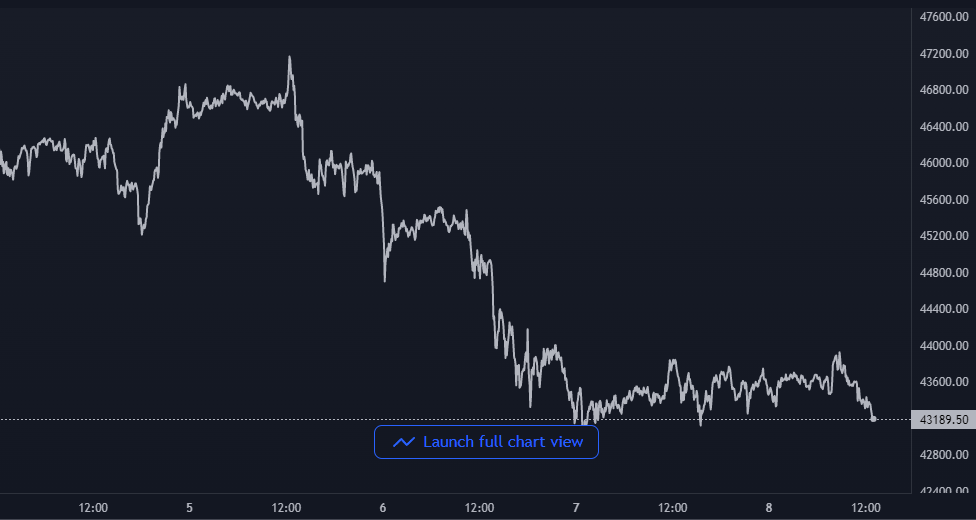 The price of BTC seems to have been moving sideways since the plunge down to $43k | Source: BTCUSD on TradingView
Featured image from Unsplash.com, charts from TradingView.com, CryptoQuant.com