Data shows the Bitcoin market has turned greedy again after almost three months of fear sentiment among investors.
Bitcoin Market Becomes Greedy Again After Almost Three Months Of Fear
The relevant indicator here is the "fear and greed index," which tells us what the general sentiment among investors currently is.
The metric uses a numeric scale that goes from zero to hundred for representing this sentiment. All values below fifty fall into the "fear category," while those above belong to "greed."
When the index shows extreme values of above 75 and below 25, the market sentiment is that of extreme greed and extreme fear, respectively.
Some investors prefer to sell when the market is extremely greedy as tops have historically formed during such periods. Similarly, they also think buying during extreme fear is better as bottoms tend to usually occur then.
Related Reading | No New Lows: "Parabolic" Bitcoin Indicator Could Suggest The Local Bottom Is In
There is a famous Warren Buffet quote that resonates with this philosophy: "be fearful when others are greedy, and greedy when others are fearful."
Now, here is a chart from this week's Arcane Research report that shows the trend in the Bitcoin fear and greed index over the past year:
The indicator's value seems to have sharply risen recently | Source: The Arcane Research Weekly Update - Week 5
As you can see in the above graph, when the report came out yesterday the market sentiment had almost exited the fear territory as the indicator showed a value of 48.
Since November, the market had been quite fearful, often dipping into extreme fear. But recently the metric has observed a sharp uptrend, and today, the investor sentiment is finally back to greed for the first time in three months as the index's value is now around 54.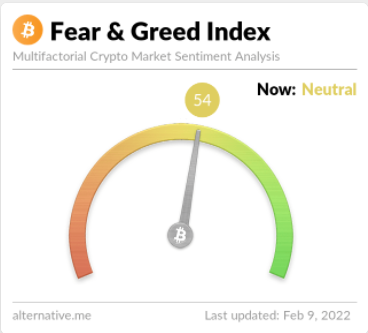 The Bitcoin fear and greed index has now crossed the fifty mark | Source: Alternative.me
The market sentiment turning to that of greed can prove to be bullish for the price of Bitcoin as sucha sentiment usually occurs during bull rallies.
Related Reading | Bitcoin Taker Buy/Sell Ratio Shows "Buy" Signal As BTC Lifts Off
BTC Price
At the time of writing, Bitcoin's price floats around $43.5k, up 13% in the last seven days. Over the past month, the crypto has gained 5% in value.
The below chart shows the trend in the price of BTC over the last five days.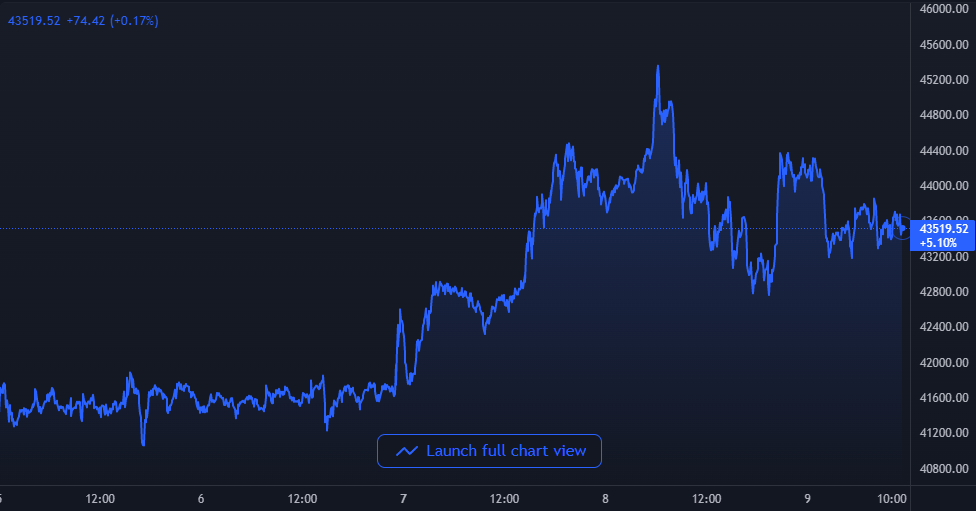 BTC's price seems to have surged over the past few days | Source: BTCUSD on TradingView
Over the past couple of weeks, Bitcoin has enjoyed some sharp uptrend. Yesterday, the price of the crypto briefly broke past the $45k mark, but it wasn't long before the coin came back down to the current levels.
Featured image from Unsplash.com, charts from TradingView.com, Arcane Research