On-chain data shows the Bitcoin MVRV Ratio Triple Ribbon is approaching a bearish cross, a sign that a correction could be coming soon for the crypto's price.
Bitcoin MVRV Ratio Triple Ribbon Is Close To Bearish Crossover
As pointed out by an analyst in a CryptoQuant post, the MVRV ratio warns that a new round of decline may be coming for BTC. The "MVRV ratio" is an indicator that measures the ratio between the market cap of Bitcoin and its realized cap. The realized cap is a capitalization model for BTC that calculates a sort of "real value" for the asset by assuming that the true worth of each coin in circulation is the price at which the particular coin was last moved.
By comparing this realized cap with the market cap, the indicator tells us whether the coin's actual price is fair or not right now. Here is a chart that shows the trend in three moving averages (10-day, 15-day, and 20-day) of this metric over the last few months:
The three MAs seem to have been closing in on each other in recent days | Source: CryptoQuant
These three MAs of the Bitcoin MVRV Ratio together form the "Triple Ribbon" indicator, and crossovers between these ribbons have historically had implications for the price of the asset. As you can see in the above graph, whenever the 10-day MA has passed below both the 15-day and the 20-day versions, while at the same time the 20-day has gone above both the others (thus keeping the 15-day's position unchanged in the middle), a bearish crossover has formed for BTC.
There have been two instances of such a cross during the last few months; the first one occurred back in August when Bitcoin was at the height of its first relief rally of this bear market, while the other one formed in November right as the FTX crash came around. In both of these occurrences, BTC's price took a deep plunge following the cross formation.
From the chart, it's apparent that the MVRV Ratio Triple Ribbon has once again been approaching this same kind of bearish crossover recently. If these MAs continue in this trajectory and the cross does end up happening, then it might mean the crypto will see another sharp drop soon.
BTC Price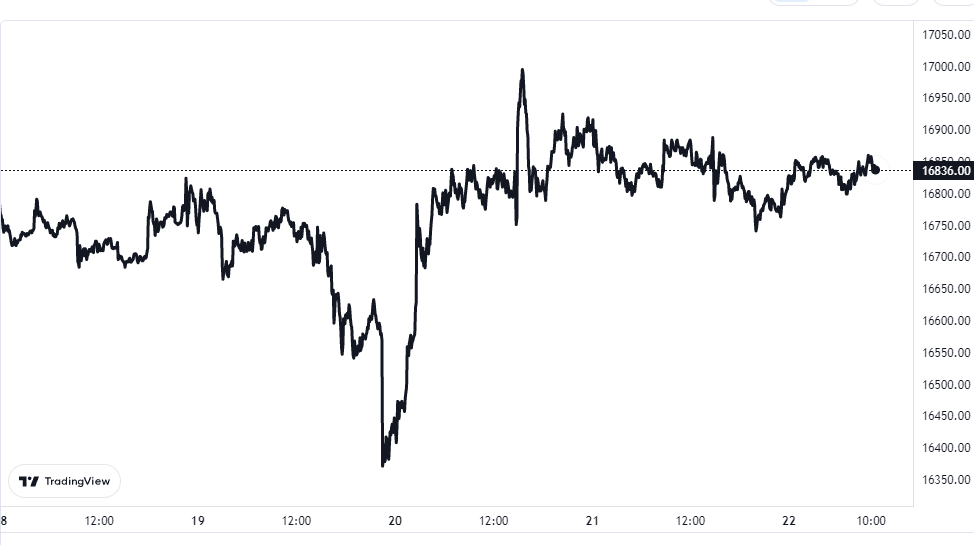 Looks like the value of the asset has continued to move sideways in the last few days | Source: BTCUSD on TradingView
At the time of writing, Bitcoin's price floats around $16,800, down 5% in the last week.
Featured image from Mark Basarab on Unsplash.com, charts from TradingView.com, CryptoQuant.com